Interchangeable Silk Slides
The silk slides in our bangles come in a variety of sumptuous colours and can be changed to match any mood or outfit.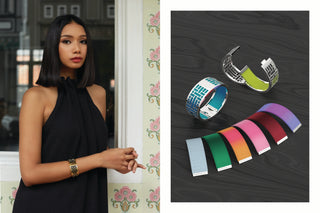 Huế Collection
The Imperial City of Huế is one of the great treasures of Vietnam, and as a UNESCO World Heritage Site, the beautiful remains of this citadel are admired by people from all over the world. The mesmerising pattern found on lattice work in its innermost enclosure, the Purple Forbidden City, is echoed in our Huế Bangle design.