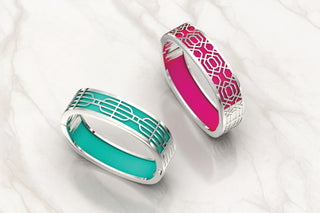 NEW option available
Rhodium-Plated Sterling Silver
Experience the brilliance of Rhodium-Plated Sterling Silver. This fabulous extension of our collection enhances the lustre of our Sterling Silver pieces by maintaining their shine, fuss-free, with a layer of Rhodium.
Interchangeable Silk Slides
The silk slides in our bangles come in a variety of sumptuous colours and can be changed to match any mood or outfit.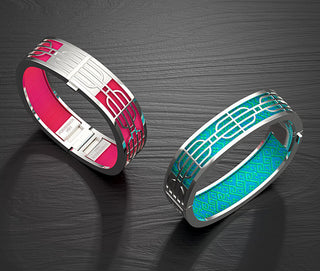 Nanyang Dream Collection
Reflecting the aspirations of the Chinese diaspora in Singapore, the Nanyang Dream Bangle is modelled after a feature from a temple built during the 1920s. Seeking a better life, waves of Chinese migrated to South East Asia or "Nanyang", meaning Southern Ocean. In pre-war Singapore, many of their buildings and temples combined their strong ties with their motherland with the needs of a modern city, in what came to be known as the Nanyang style of architecture.