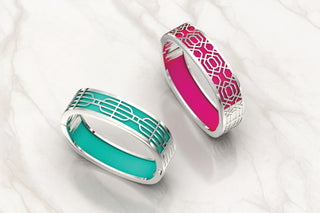 NEW option available
Rhodium-Plated Sterling Silver
Experience the brilliance of Rhodium-Plated Sterling Silver. This fabulous extension of our collection enhances the lustre of our Sterling Silver pieces by maintaining their shine, fuss-free, with a layer of Rhodium.
Interchangeable Silk Slides
The silk slides in our bangles come in a variety of sumptuous colours and can be changed to match any mood or outfit.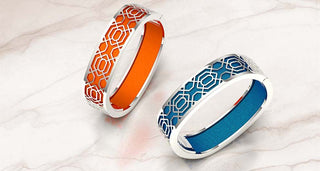 Peranakan Grace Collection
The Peranakan Grace Bangle is an ode to the Nonyas of yesteryear. At the turn of the century, Peranakan women were often confined to the home and expected to be accomplished at cooking, embroidering and beadwork. But beyond these societal expectations, many Nonyas are fondly remembered as indefatigable spirits and larger than life, showing their inner strength in the way they ran the household and their dedication to their family. Since those times, many Peranakan women have made notable contributions to their country and community, pushing through boundaries with character and grace.